Bob Ross Art Instructor – Raymond Riley
"Anyone can do it from complete beginners to the more experienced artist.
We guarantee that you will go home with a masterpiece and memories of the day that will never be forgotten."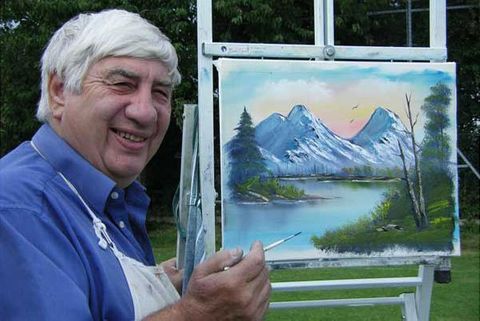 Welcome, this my story of how I came to be a Bob Ross instructor.
I loved art when I was at school but never found the opportunity to develop this interest. A long career in farming nurtured my love of the countryside and I took enormous pleasure in observing nature; early mornings, sunrises and mists, majestic trees, sparkling sunshine on the water etc. Later in life, as fate would have it,
I found myself laid up for 6 weeks after an operation, and with so much time on my hands, I needed an activity – in an attempt to keep me occupied my wife gave me a painting by numbers kit.
After that first very basic kit, I had begun to rediscover my love of painting. I rapidly moved on to acrylics then watercolours and then one day I came across Bob Ross on the television and was fascinated by his 'Wet-on-Wet' technique of painting with oils.
I was amazed at the incredibly professional and delightful paintings which were possible to create in just one sitting and I watched his programmes over and over again. By 2011 I had attended Bob Ross instructor workshops to learn this method of painting for myself.
Passionate about sharing this wonderful way of painting with others and discovering I had a natural aptitude for teaching, in 2012 I qualified as a Bob Ross instructor for 'Wet-on-Wet' floral techniques and in 2013 returned and qualified in landscape painting. My classes in my studio in Great Glen, Leicestershire, are friendly and relaxed and above all informal. We have fun together, make new friends, gain confidence through learning a new skill and anybody, even someone who has never picked up a brush before can produce a fabulous piece of art over the course of the day to take home and enjoy – a painting to be proud of. I guarantee you'll have a thoroughly enjoyable and rewarding experience.
"I have been to many of Ray's workshops – such a fun packed day out, I was able to take the masterpiece home with me and I love it, cant wait to get booked back on!" – Michelle
"I had a lovely day learning to paint with Ray today.
He has so much patience and if he can teach me to paint he can teach anyone.
Thanks Ray"
"Loved painting with Ray.. Such a lovely
evening & guess what? I can paint!!
Well worth a visit."
"Just a quick line to say thank you very much for today, what a thoroughly inspiring and enjoyable day.
I'm thrilled with my 'masterpiece' and am looking forward to doing the landscape painting in March" –
Andrea
"I learned so much and enjoyed every minute of the class, and came home with a super painting which I proudly display in my lounge." –
Alan
"I was sceptical, but with Ray's engaging instruction I was absolutely amazed how easy it was to for me to produce a really lovely picture to take home and enjoy." –
David